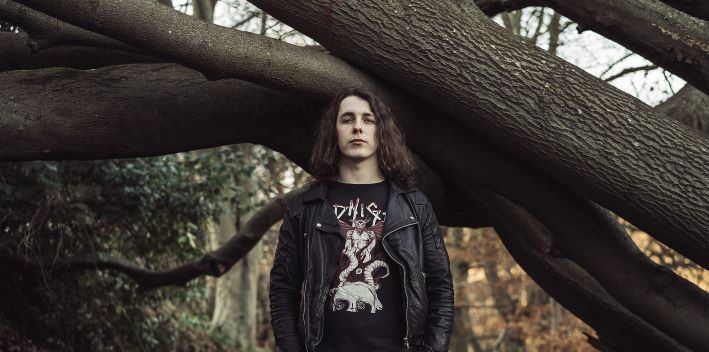 HELLRIPPER: Single zum neuen Album online
Das Black-Speed-Metal-Soloprojekt stellt mit einem Lyricvideo den neuen Song 'Spectres Of The Blood Moon Sabbath' von der am 9. Oktober via Peaceville erscheinenden Full-Length "The Affair Of The Poisons" vor.
James McBain, der HELLRIPPER im Alleingang Zunder gibt, kommentiert: "This was one of the first tracks written for the album and has a definite "rock 'n' roll" feel to it with its bouncy rhythm & a Motörhead or TANK vibe, and it is one of two songs on the album where Joseph (live guitarist) performed lead guitar."
Zu dem kommenden Album hat der in den schottischen Highlands geborene Musiker zu verkünden: "It contains the mixture of thrash/black/speed metal and punk that Hellripper has become known for, but this time I feel that the end result is more cohesive. Some of the tracks are more straight-forward while others contain some twists and parts that are new to the Hellripper sound. As always, the whole writing and recording process was done at home by myself, with a few friends of mine contributing some additional vocals and lead guitar parts. The album was mixed by myself and was mastered by Brad Boatright at Audiosiege who did an amazing job.
Skadvaldur did an excellent job, as he always does, of creating a piece of artwork that both represents the album's themes, as well as being a somewhat of a homage in style to the old B-horror movie posters that inspired a few of the album's tracks."
The Affair Of The Poisons tracklisting:
1. The Affair Of The Poisons [04:59]
2. Spectres Of The Blood Moon Sabbath [03:37]
3. Vampire`s Grave [02:59]
4. Beyond The Convent Walls [04:29]
5. Savage Blasphemy [03:11]
6. Hexennachtm[02:50]
7. Blood Orgy Of The She-Devils[02:51]
8. The Hanging Tree [04:45]