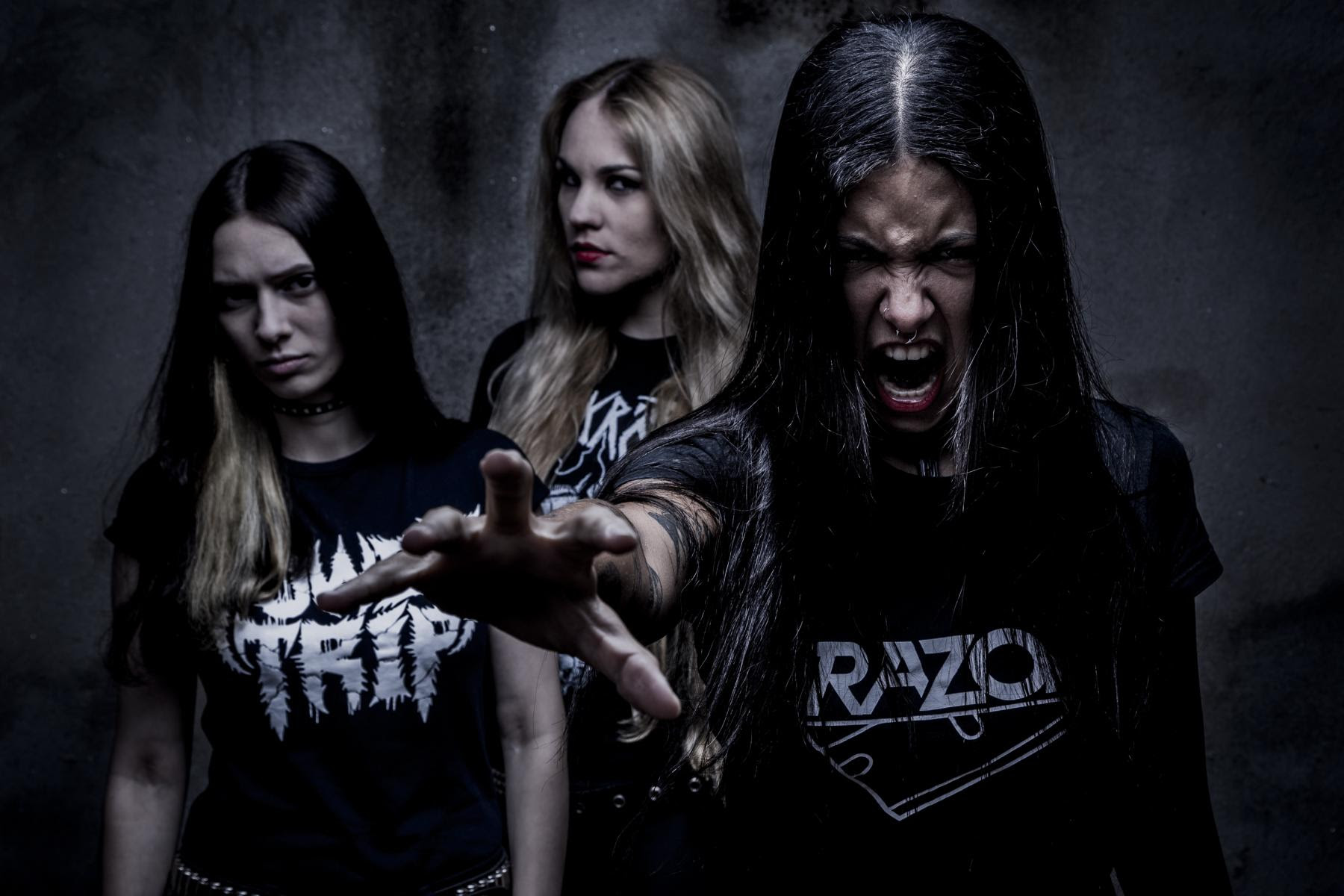 NERVOSA: Lyricvideo zum neuen Album
Am 1. Juni wird mit "Downfall Of Mankind" das neue Album der brasilianischen Thrasherinnen veröffentlicht. Mit einem Lyricvideo rühren sie nun munter in der Werbetrommel.
Gitarristin Prika hat über 'Kill The Silence' zu vermelden: "A perfect scenery to compose lyrics that encourage overcoming. It talks about things that hurt you and that you're not alone. This new video symbolizes a new phase in the band with which I identify myself 100%!"
Fernanda ergänzt: "I like the idea of using fire in the video, because i think the symbology has everything to do with the message in the song. Fire represents renewal and mainly purification, and using it in the video really gives me the idea of triumph, overcoming and moving on!"
Für ihre dritte Scheibe haben NERVOSA mit Produzent Martin Furia zusammengearbeitet, zudem schauten Gaststars wie João Gordo (Ratos de Porão), Rodrigo Oliveira (Korzus) und Michael Gilbert (Flotsam & Jetsam) im Studio vorbei.
Und falls Ihr es verpasst habt - zu 'Never Forget, Never Repeat' haben die drei auch schon einen schicken Videoclip rausgehauen:
"Downfall Of Mankind"-Tracklist:
1. Intro
2. Horrordome
3. Never Forget, Never Repeat
4. Enslave
5. Bleeding
6. ... And Justice for Whom?
7. Vultures
8. Kill the Silence
9. No Mercy
10. Raise Your Fist!
11. Fear, Violence and Massacre
12. Conflict
13. Cultura do Estupro
Tour 2018:
13.07.18 DE – Milmersdorf / HEADACHE INSIDE
14.07.18 DE – Torgau / In Flammen
15.07.18 CZ – Vizovice / Masters Of Rock
18.07.18 DE - Berlin / Cassiopeia
21.07.18 DE - Hamburg / Logo
22.07.18 DE - Osnabrück / Bastard Club
26.07.18 DE - Bochum / Rockpalast
27.07.18 DE - Köln / MTC
01.08.18 ES – Vitoria / Urban Rock Concept
02.08.18 ES – Oviedo / Sir Laurens
03.08.18 ES – Madrid / Copernico Cavern
04.08.18 ES – Barcelona / Sala Monasterio
05.08.18 FR – Toulouse / L'Usine A Musique
07.08.18 FR – Lyon / Rock 'N' Eat
08.08.18 FR – Montpellier / Secret Place
10.08.18 IT – Milan / Circolo Svolta
11.08.18 IT – Cervia / Rock Planet
14.08.18 DE - Mannheim / 7er
16.08.18 DE – Dinkelsbühl / Summer Breeze Open Air
17.08.18 CZ – Litoměřice, Death Coffee Party
18.08.18 DE – Erfurt / From Hell
27.08.18 DE - München / Backstage Club
25.08.18 AT – Spital am Semmering / Kaltenbach Open Air
30.08.18 CH – Luzern / Schüür
31.08.18 CH – Hauteville / Abyss Festival
01.09.18 BE – Chapelle-Lez Herlaimont / Cercle Metal Festival
02.09.18 UK – Edinburgh / Heavy Scotland