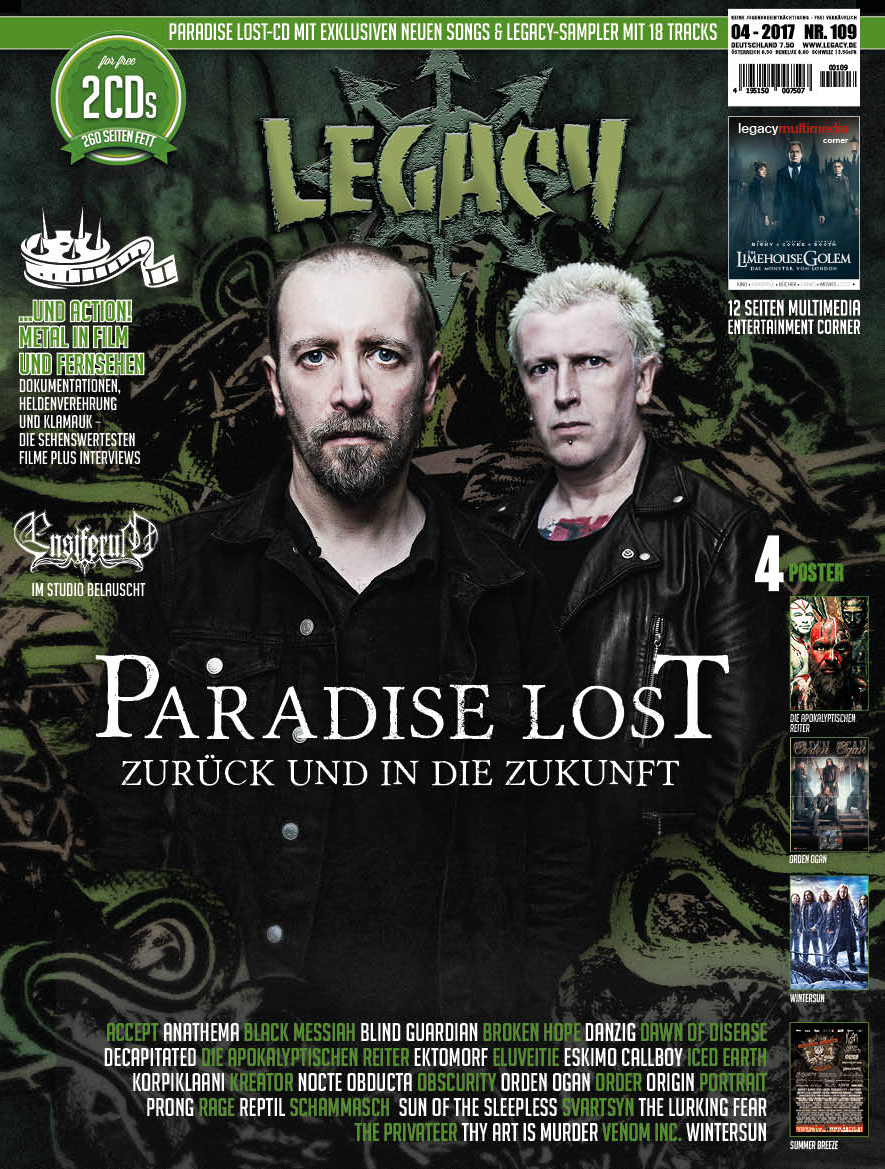 #109
109. Ausgabe
(Bildquelle: Legacy)
Erhältlich ab dem 30.06.2017!
BUY HERE
LEGACY #109
Die Ausgabe 4/2017 trägt uns durch die Festival-Hauptsaison und wird wie immer zu dieser Jahreszeit zehn Wochen (bis zum 15. September) im Handel sein und so den üblichen Zweimonatsturnus verlängern. Die fleißigen Gothic Metal-Veteranen Paradise Lost durchbrechen schon im 29. Bandjahr mit "Medusa" die Marke von 15 Alben und wagen damit einen gekonnten Schritt zurück zu ihren Doom Death-Wurzeln. Wir lassen nicht nur die Band, sondern auch ihren Produzenten und andere Musiker – darunter auch ihre kommenden Vorbands Pallbearer und Sinistro – zu Wort kommen und untersuchen zudem akribisch die Diskografie der Legende.
PLUS 2 EXKLUSIVE CDs
1) PARADISE LOST-MCD mit drei neuen/raren Songs
'The Longest Winter' ist ein Track des im September veröffentlichten 15. Paradise Lost-Albums "Medusa", 'Symbolic Virtue' stammt aus den Album-Sessions und wird einige Limited Editions als Bonustrack küren, 'Sell It To The World' ist ein Remix vom "Believe In Nothing"-Album.
2) LEGACY-COMPILATION mit 18 Tracks: Eluveitie, Dawn Of Disease, Monster, Putrid Offal, Hassmord, XtortYa, The Black Capes, Dark Embrace, I.M. Nail, Madlife, Enemy I, Black Candle, Brutart, Shockgnosis, Divide, Nargathrond, Hertzschlag, Restless Feet
4 POSTER: Die Apokalyptischen Reiter, Wintersun, Orden Ogan, Summer Breeze Festival
STUDIOREPORTS: Ensiferum, Akercocke, Phosphor, Night Viper
Zusätzlich zu den Band-Features der CD-Compilation gibt es Interviews mit: Accept & Across The Atlantic & Alazka & Anathema & Antigone Project & Apallic & Black Messiah & Blaze Of Sorrow & Blind Guardian & Blind Seer & Bliss Of Flesh & Bloodclot & Broken Hope & Cellar Darling & Clouds & Crimfall & Croword & Cryptic Wanderings & Cytotoxin & Danzig & Dawn Of Disease & Decapitated & Decrepit Birth & Deliverance & Die Apokalyptischen Reiter & Dirkschneider & Edguy & Ektomorf & Eluveitie & Eskimo Callboy & Execration & Fellwarden & Formicarius & Freak Injection & Galderia & Gods Forsaken & Groovenom & Hatedotcom & Helsott & Iced Earth & In Hearts Wake & Korpiklaani & Kreator & Maim & Manilla Road & Masquerade & Morphosys & Narnia & Nervecell & Nocte Obducta & Nuclear Warfare & Obscurity & Odium & Orden Ogan & Order & Origin & Paganizer & Piledriver & Portrait & Primal Age & Prong & Psygnosis & Rage & Raptore & Reptil & Rex Brown & Rhapsody Of Fire & Sator Malus & Schammasch & Sikth & Silverdust & Smash Hit Combo & Sun Of The Sleepless & Svartsyn & Tengger Cavalry & The Black Capes & The Lurking Fear & The Prisoner & The Privateer & Thy Art Is Murder & Übergas & Venom Inc. & Virtual Symmetry & Völur & Wind Rose & Wintersun & Wormwitch
AB DEM 30.6. ERHÄLTLICH
-------------------
LEGACY #109
Edition 4/2017 is gonna carry us through the epicenter of the festival summer, traditionally for this season it will be available for ten weeks (until September, 15th) instead of the usual eight week rhythm. The busy Gothic Metal veterans Paradise already unleash their 15th album in 29 years of their career, daring an accomplished step back to their Doom Death roots. We interviewed them, collected comments from other musicians, including the upcoming support bands Pallbearer and Sinistro and took a detailed look at the whole discography of the legend.
PLUS 2 EXKLUSIVE CDs:
1) PARADISE LOST-MCD with three new/ rare songs:
'The Longest Winter' is an anthem taken from the 15th Paradise Lost album "Medusa", to be released in September. 'Symbolic Virtue' is a bonus track for some of the limited editions, from the same album-sessions, while 'Sell It To The World' is a remix of the track of the same title from "Believe In Nothing".
2) LEGACY-COMPILATION with 18 tracks: Eluveitie, Dawn Of Disease, Monster, Putrid Offal, Hassmord, XtortYa, The Black Capes, Dark Embrace, I.M. Nail, Madlife, Enemy I, Black Candle, Brutart, Shockgnosis, Divide, Nargathrond, Hertzschlag, Restless Feet
4 POSTERS: Die Apokalyptischen Reiter, Wintersun, Orden Ogan, Summer Breeze Festival
STUDIO REPORTS: Ensiferum, Akercocke, Phosphor, Night Viper
Additionally to the bands featured on the compilation CD we have further interviews with: Accept & Across The Atlantic & Alazka & Anathema & Antigone Project & Apallic & Black Messiah & Blaze Of Sorrow & Blind Guardian & Blind Seer & Bliss Of Flesh & Bloodclot & Broken Hope & Cellar Darling & Clouds & Crimfall & Croword & Cryptic Wanderings & Cytotoxin & Danzig & Dawn Of Disease & Decapitated & Decrepit Birth & Deliverance & Die Apokalyptischen Reiter & Dirkschneider & Edguy & Ektomorf & Eluveitie & Eskimo Callboy & Execration & Fellwarden & Formicarius & Freak Injection & Galderia & Gods Forsaken & Groovenom & Hatedotcom & Helsott & Iced Earth & In Hearts Wake & Korpiklaani & Kreator & Maim & Manilla Road & Masquerade & Morphosys & Narnia & Nervecell & Nocte Obducta & Nuclear Warfare & Obscurity & Odium & Orden Ogan & Order & Origin & Paganizer & Piledriver & Portrait & Primal Age & Prong & Psygnosis & Rage & Raptore & Reptil & Rex Brown & Rhapsody Of Fire & Sator Malus & Schammasch & Sikth & Silverdust & Smash Hit Combo & Sun Of The Sleepless & Svartsyn & Tengger Cavalry & The Black Capes & The Lurking Fear & The Prisoner & The Privateer & Thy Art Is Murder & Übergas & Venom Inc. & Virtual Symmetry & Völur & Wind Rose & Wintersun & Wormwitch

AVAILABLE FROM JUNE, 30th
www.legacy.de