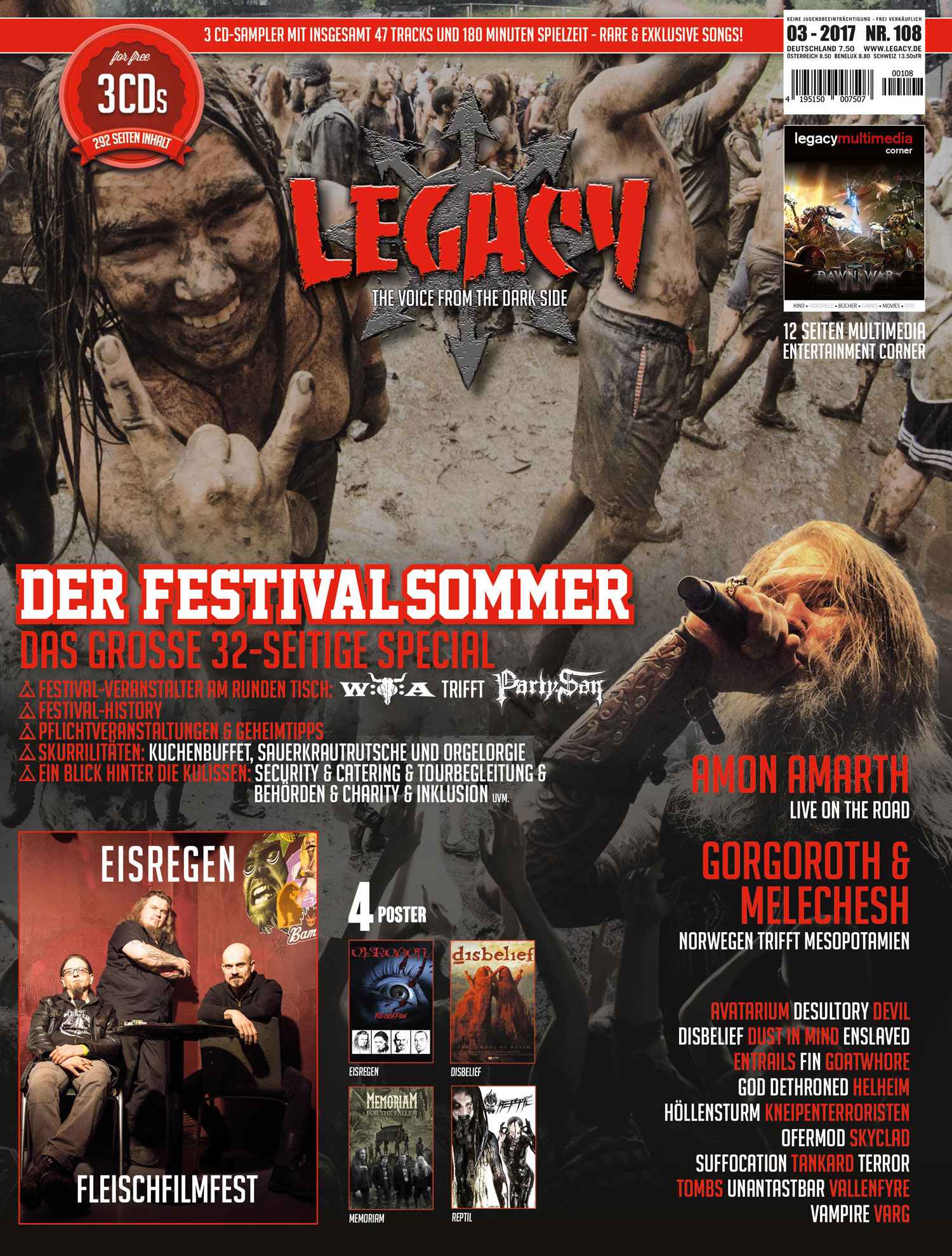 #108
108. Ausgabe
(Bildquelle: Legacy)
Erhältlich ab dem 30.04.2017!
BUY HERE
LEGACY #108
Die Ausgabe 3/2017 ist wieder 290 Seiten stark. Statt eines einzelnen Band-Features wie zuletzt den umfangreichen Dimmu Borgir- und Kreator-Interviews haben wir nun ein 35 Seiten umfassendes Festival-Special als Titelstory an Bord: Zentrum ist ein runder Tisch mit den Veranstaltern vom im frühen August stets aufeinanderfolgenden Wacken Open Air und Party.San Open Air, letzteres seit vielen Jahren von uns präsentiert und bei den Autogrammstunden der Hauptbühnenbands betreut. Wir stellen viele weitere ganz unterschiedliche (europäische) Festivals vor und ermöglichen verschiedene Blickwinkel hinter die Kulissen solcher Veranstaltungen.
Zudem haben wir als Co-Titel eine große Eisregen-Story, inklusive Interview mit ihrem Gastgitarristen Martin Schirenc (bekannt von Pungent Stench und Hollenthon), der als Externer den ausgestiegenen Bursche Lenz für die kompletten Aufnahmen von "Fleischfilm" vertreten hat.
PLUS 3 EXKLUSIVE CDs
1) PARTY.SAN 2017 Compilation " A Cry From The Crypt – The Rare Tracks"
Mit teilweise auf CD bislang unveröffentlichten, ansonsten raren Songs:
AUTOPSY - ´Mauled To Death´ (2011 Re-Recording) - Taken from "All Tomorrow's Funerals" compilation
MOONSORROW -´Soulless´ (Grave-Cover) - Taken from "Jumalten Aika" limited 2CD digipack
OVERKILL - Emerald´ - Taken from "The Grinding Wheel" limited digipack
CANDLEMASS -´Sadness Runs Deep´ (Edit) - Taken from "Psalms For The Dead" limited 3LP
DESASTER -´Infernal Voices´ (Remix) - Original version taken from "Infernal Voices" 12"
ABBATH -´Fenrir Hunts´ - Recorded live in the studio, September 2015
VADER - ´Overkill´ - Taken from "Iron Times" MCD
CRYPTOPSY - ´Detritus (The One They Kept)´ - "The Book Of Suffering Tome 1" (digital only)
2) LEGACY-COMPILATION mit 19 Tracks:
Eisregen, AlNamrood, In Reverence, Guerra Total, Killing Age, MagnaCult, Kneipenterroristen, Pestlegion, Reptil, Contaminant, Terrible Sickness, Höllensturm, Blood Of Angels, Shotgun Valium, Bloodspot, Andreas Budweiser, Ancst, Sanguine Pluit, Maggot Colony
3) 7HARD-Compilation "HardPack IV" mit 20 Songs:
Yiek, Slate Grey, Silver Horses, Rubbish, Maggie's Madness, Creeon, Proke, Shawn James & The Shapeshifters, Silver Bullet, Tigersclaw, Illusory, Steilflug, Nachtgreif, Dark Lambency, Burn Down Eden, Days Of Grace, The Strobez, Everyday I Die, Ten-4, Platonic Solids
4 POSTER: Memoriam, Eisregen, Disbelief, Reptil
STUDIOREPORTS: Orden Ogan, Order, Iced Earth, Reptil
Zusätzlich zu den Band-Features der Legacy- CD-Compilation gibt es Interviews mit:
All That Remains & An Erotic End Of Times & Au-Dessus & Avatarium & Azarath & Bardspec & Beastcraft & Below & Clear Sky Nailstorm & Comaniac & Corpus Christii & Corroded & Desultory & Devil & Dezperadoz & Disbelief & Dodsengel & Dream Evil & Dust In Mind & Dying Gorgeous Lies & Earth Rot & Enslaved & Entrails & Fall Of Rauros & Ferndal & Fin & Firespawn & From The Shores & Full Of Hell & Ghusa & Goatwhore & God Dethroned & Helker & Höllensturm & I'll Be Damned & Ides Of Gemini & Igorrr & Liv Sin & Loss & Lost Dream & Mallevs Maleficarvm & Midnight Rider & Miss May I & My Daily Crisis & Nap & Neo Noire & Night Demon & Nitrogods & Northlane & Ofermod & Pale King & Phyria & Platonic Solids & Pristine & Purpendicular & Pyramaze & Raw Power & Rebellious Spirit & Reignsaw & Rimthurs & Saint Astray & Saturn & Sideburn & Silver Horses & Skyclad & Slagmaur & Slate Grey & Spidergawd & Spoil Engine & Stahlmann & Stillborn Slave & Suffocation & Tankard & Terror & The Flatliners & The Night Flight Orchestra & The Unity & Time Lurker & Tombs & Toxpack & Unantastbar & Vampire & Varg & Vince Voltage & Wednesday 13 & When Icarus Falls & White Ward & Wilde Jungs & Wizard & Wömit Angel
AB DEM 29.4. ERHÄLTLICH
-------------------
LEGACY #108
Our issue 3/2017 is again 290 pages thick. Instead of one of the usual single band features – like Dimmu Borgir and Kreator in the latest issues – we have a huge 35 pages festival special as our title story: The centre is a round table talk with the bosses of Wacken Open Air and Party.San open Air, traditionally presented on two successional weekends in early August. The later one is presented by Legacy since years, we also run the signing sessions desk for the bands from the mainstage with colleagues. We introduce a huge variety of different (European) festivals and offer behind the scenes impressions of this kind of events.
Additionally we have a detailed Eisregen co-title story, including an interview with Martin Schirenc (known from Pungent Stench and Hollenthon), who externally replaced Bursche Lenz for the guitar recordings of the complete "Fleischfilm" album.
PLUS 3 EXKLUSIVE CDs:
1) PARTY.SAN 2017 compilation " A Cry From The Crypt – The Rare Tracks"
Songs partly unreleased on CD until now or rare
AUTOPSY - ´Mauled To Death´ (2011 Re-Recording) - Taken from "All Tomorrow's Funerals" compilation
MOONSORROW -´Soulless´ (Grave-Cover) - Taken from "Jumalten Aika" limited 2CD digipack
OVERKILL - Emerald´ - Taken from "The Grinding Wheel" limited digipack
CANDLEMASS -´Sadness Runs Deep´ (Edit) - Taken from "Psalms For The Dead" limited 3LP
DESASTER -´Infernal Voices´ (Remix) - Original version taken from "Infernal Voices" 12"
ABBATH -´Fenrir Hunts´ - Recorded live in the studio, September 2015
VADER - ´Overkill´ - Taken from "Iron Times" MCD
CRYPTOPSY - ´Detritus (The One They Kept)´ - "The Book Of Suffering Tome 1" (digital only)
2) LEGACY-COMPILATION with 19 tracks:
Eisregen, AlNamrood, In Reverence, Guerra Total, Killing Age, MagnaCult, Kneipenterroristen, Pestlegion, Reptil, Contaminant, Terrible Sickness, Höllensturm, Blood Of Angels, Shotgun Valium, Bloodspot, Andreas Budweiser, Abcst, Sanguine Pluit, Maggot Colony
3) 7 HARD compilation "HardPack IV" with 20 songs:
Yiek, Slate Grey, Silver Horses, Rubbish, Maggie's Madness, Creeon, Proke, Shawn James & The Shapeshifters, Silver Bullet, Tigersclaw, Illusory, Steilflug, Nachtgreif, Dark Lambency, Burn Down Eden, Days Of Grace, The Strobez, Everyday I Die, Ten-4, Platonic Solids
4 POSTERS: Memoriam, Eisregen, Disbelief, Reptil
STUDIO-REPORTS: Orden Ogan, Order, Iced Earth, Reptil
Additionally to the bands featured on the Legacy-compilation CD we have further interviews with:
All That Remains & An Erotic End Of Times & Au-Dessus & Avatarium & Azarath & Bardspec & Beastcraft & Below & Clear Sky Nailstorm & Comaniac & Corpus Christii & Corroded & Desultory & Devil & Dezperadoz & Disbelief & Dodsengel & Dream Evil & Dust In Mind & Dying Gorgeous Lies & Earth Rot & Enslaved & Entrails & Fall Of Rauros & Ferndal & Fin & Firespawn & From The Shores & Full Of Hell & Ghusa & Goatwhore & God Dethroned & Helker & Höllensturm & I'll Be Damned & Ides Of Gemini & Igorrr & Liv Sin & Loss & Lost Dream & Mallevs Maleficarvm & Midnight Rider & Miss May I & My Daily Crisis & Nap & Neo Noire & Night Demon & Nitrogods & Northlane & Ofermod & Pale King & Phyria & Platonic Solids & Pristine & Purpendicular & Pyramaze & Raw Power & Rebellious Spirit & Reignsaw & Rimthurs & Saint Astray & Saturn & Sideburn & Silver Horses & Skyclad & Slagmaur & Slate Grey & Spidergawd & Spoil Engine & Stahlmann & Stillborn Slave & Suffocation & Tankard & Terror & The Flatliners & The Night Flight Orchestra & The Unity & Time Lurker & Tombs & Toxpack & Unantastbar & Vampire & Varg & Vince Voltage & Wednesday 13 & When Icarus Falls & White Ward & Wilde Jungs & Wizard & Wömit Angel
AVAILABLE FROM APRIL, 29th
www.legacy.de