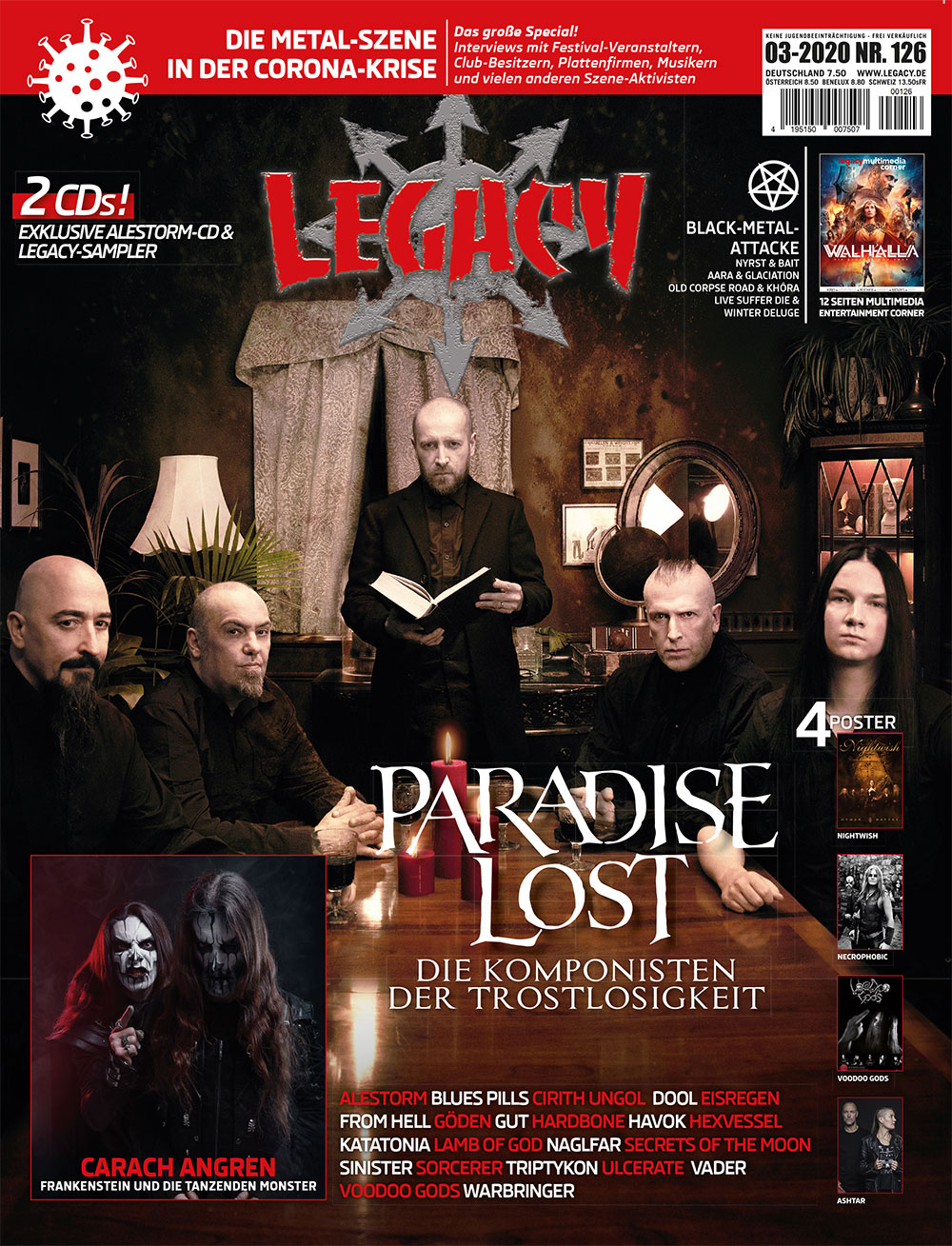 LEGACY #126
PLUS EXKLUSIVE ALESTORM CD
& LEGACY-Sampler mit 17 brandneuen Tracks
ORDER HERE!
LEGACY #126
Die britischen Doom-Death-Gentlemen Paradise Lost haben mit dem fantastischen Opus "Obsidian" nicht nur den Soundcheck haushoch gewonnen, sondern auch die Titelstory einheimsen können. Der Co-Titel gebührt den niederländischen Horror-Metal-Spezialisten Carach Angren, die mit ihrem sechsten orchestralen Gruselwerk "Franckensteina Strataemontanus" das Fürchten lehren.
PLUS 2 EXKLUSIVE CDs:
1. ALESTORM-EP mit zwei Vorab-Tracks vom kommenden Album "Curse Of The Crystal Coconut" und drei exklusiven Live-Songs
2. LEGACY-COMPILATION mit 17 Tracks: Eisregen, Clear Sky Nailstorm, Bitterness, Angelcrypt, Teeth Of Lamb, Serpent Omega, MemoryFX, Bloodred, Inherently Lost, Impalement, Sarkoptic, Totenlegion, Apodikt, Zero Degree, Roots Of Unrest, River Stole Gods, Kaiser And The Machines Of Creation
STUDIOREPORTE: Evil Drive, Eisregen, Primal Fear
POSTER: Necrophobic, Nightwish, Voodoo Gods, Ashtar
Zusätzlich zu den Titel- und Band-Features der CDs gibt es Interviews mit: Aara, Alkymist, Ash Return, Aversions Crown, Bâ´a, Bait, Bear, Blues Pills, Calligram, Chronus, Circle Of Execution, Cirith Ungol, Course Of Fate, Dark Side Of Me, Darker Half, DevilsBridge, Dool, Dying Empire, Exess, Fallen Arise, Flying Circus, From Hell, FunnyLovePainful, Gefrierbrand, Glaciation, Göden, Gut, Hangatyr, Hardbone, Havok, Hexvessel, Ivanhoe, Katatonia, Khôra, Lamb Of God, Leaden Fumes, Lesser Glow, Live Suffer Die, Lucifer, Lucifer Star Machine, Malefistum, Mass Hysteria, Mnemocide, Naglfar, Neck Of The Woods, New Hate Rising, Nyrst, Old Corpse Road, Oz, Perchta, Porn, Psychonaut, Sabiendas, Secrets Of The Moon, Selfish Hate, Sinister, Sorcerer, Telepathy, Triptykon, Ulcerate, Unredd, Vader, Voices Of Ruin, Voodoo Gods, Warbringer, Winter Deluge, Wolves Den
---
LEGACY #126
Paradise Lost, British Doom Death gentlemen, dominate the current soundcheck with their fantastic new opus "Obsidian", therefore they deserve another title story for sure. The co-title hails Dutch Horror Metal experts Carach Angren, who are teaching us fear with their orchestral and ambitioned sixth album "Franckensteina Strataemontanus".
PLUS 2 EXCLUSIVE CDs:
1. ALESTORM-EP with two new tracks from the upcoming album "Curse Of The Crystal Coconut" and three exclusive live songs
2. LEGACY-COMPILATION with 17 tracks: Eisregen, Clear Sky Nailstorm, Bitterness, Angelcrypt, Teeth Of Lamb, Serpent Omega, MemoryFX, Bloodred, Inherently Lost, Impalement, Sarkoptic, Totenlegion, Apodikt, Zero Degree, Roots Of Unrest, River Stole Gods, Kaiser And The Machines Of Creation
STUDIO REPORTS: Evil Drive, Eisregen, Primal Fear
POSTER: Necrophobic, Nightwish, Voodoo Gods, Ashtar
Additionally to the title stories and bands featured on the CDs we have further interviews with: Aara, Alkymist, Ash Return, Aversions Crown, Bâ´a, Bait, Bear, Blues Pills, Calligram, Chronus, Circle Of Execution, Cirith Ungol, Course Of Fate, Dark Side Of Me, Darker Half, DevilsBridge, Dool, Dying Empire, Exess, Fallen Arise, Flying Circus, From Hell, FunnyLovePainful, Gefrierbrand, Glaciation, Göden, Gut, Hangatyr, Hardbone, Havok, Hexvessel, Ivanhoe, Katatonia, Khôra, Lamb Of God, Leaden Fumes, Lesser Glow, Live Suffer Die, Lucifer, Lucifer Star Machine, Malefistum, Mass Hysteria, Mnemocide, Naglfar, Neck Of The Woods, New Hate Rising, Nyrst, Old Corpse Road, Oz, Perchta, Porn, Psychonaut, Sabiendas, Secrets Of The Moon, Selfish Hate, Sinister, Sorcerer, Telepathy, Triptykon, Ulcerate, Unredd, Vader, Voices Of Ruin, Voodoo Gods, Warbringer, Winter Deluge, Wolves Den