ATRA VETOSUS starten ihre Tour durch Europa
Mit ATRA VETOSUS, PERENNIAL ISOLATION und DRAWN INTO DESCENT haben sich drei Underground Black Metal-Bands zusammengerottet, um gemeinsam eine längere Tour durch Europa zu spielen.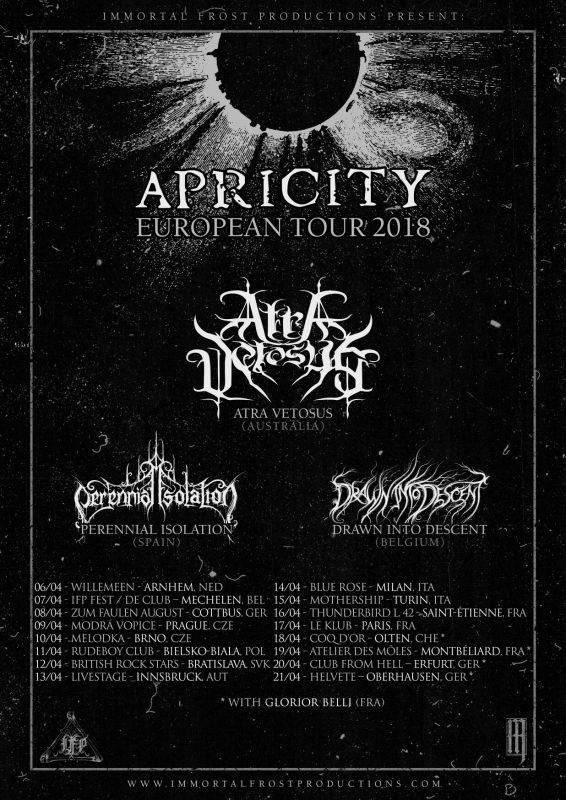 Black Metal-Fans aufgepasst! Erinnert Euch daran, dass passend zum kommenden neuen Album von ATRA VETOSUS, das auf den Namen "Apricity" hört und am 26. Februar diesen Jahres via Immortal Frost Productions erschienen ist, sich die australischen Black-Metaller nun auf große Europatour begeben werden. Dabei bringen sie zum einen ihre Schwarzwurzel-Kollegen aus Spanien mit, namentlich PERENNIAL ISOLATION, die 2016 ihr aktuellstes Album "Epiphanies Of The Orphaned Light" via Darkwoods veröffentlicht haben. Zum anderen werden DRAWN INTO DESCENT aus Belgien die Tour vervollständigen - das neueste Album ("Drawn Into Descent") dieser Herren ist aber schon etwas älter und erschien 2015 via Immortal Frost Productions.
Ein besonderes Schmankerl hat man sich noch für die abschließenden Gigs überlegt, dort werden nämlich die Stoner Black-Metaller Glorior Belli ihr kürzlich veröffentlichtes Album präsentieren!
Die "Apricity European Tour" wird in folgenden Städten und Clubs Halt machen:
06/04/2018 - Willemeen - Arnhem, Netherlands
07/04/2018 - IFP Fest 2018/ De Club - Mechelen, Belgium
08/04/2018 - Zum Faulen August - Cottbus, Germany
09/04/2018 - MusicClub Modrá Vopice - Prague, Czech Republic
10/04/2018 - Melodka - Brno, Czech Republic
11/04/2018 - Rudeboy Club - Bielsk-Biala, Poland
12/04/2018 - British Rock Stars - Bratislava, Slovakia
13/04/2018 - Livestage - Innsbruck, Austria
14/04/2018 - ABM Fest / Blue Rose - Milan, Italy
15/04/2018 - Mothership - Turin, Italy
16/04/2018 - Thunderbrid Lounge 42 - Saint-Etienne, France
17/04/2018 - Le Klub - Paris, France
18/04/2018 - Coq d'Or - Olten, Switzerland *
19/04/2018 - Atelier des Môles - Montbéliard, France *
20/04/2018 - Club From Hell - Erfurt, Germany *
21/04/2018 - Helvete - Oberhausen, Germany *

* mit Glorior Belli

Mehr Infos zur Tour findet man auch auf folgender Facebook-Seite!