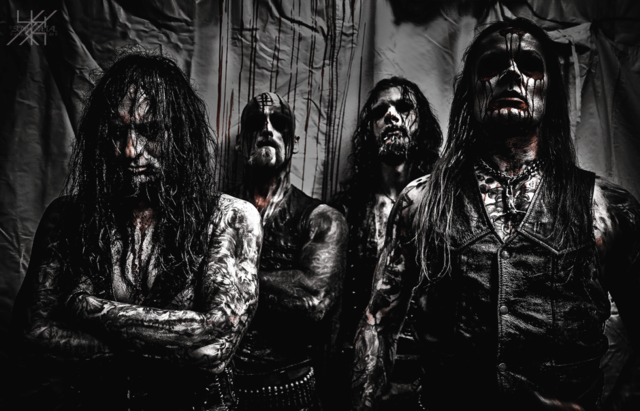 BELPHEGOR präsentieren offizielles Lyric- und Performance-Video zu und starten Lateinamerika-Tour
In wenigen Tagen startet die Death/Black-Maschinerie BELPHEGOR ihre große Lateinamerika-Tour, auf der sie ihr bisher erfolgreichsten Albums »Totenritual« erstmals auf südamerikanischem Boden live präsentieren. Anlässlich dieses Jahres voll zahlreicher Live-Darbietungen zeigt die Band um Frontmann Helmuth Lehner heute ein Lyrical Performance Video zu 'The Devil's Son'.
Der Song ist dem berühmten Violonisten Niccolò Paganini (1781-1849) gewidmet, dessen Geigenspiel so virtuos und einzigartig war, dass man ihm einen Pakt mit dem Teufel nachsagte.
Gefilmt von Blutsbruder Barth Resch, editiert von Chris Huszar.
Bandfoto: Sunvemetal.de
BELPHEGORs Liveperformance ist dieses Jahr fast auf der gesamten Welt zu erleben - seht die Band auf diesen Daten:
LATIN AMERICAN »TOTENRITUAL« CRUSADE 2018
02.03. BR Recife - Burburinho
03.03. BR Fortaleza - Teatro Boca Rica
04.03. BR São Paulo - Carioca Club
08.03. PY Asunción - Absoluto Rock
09.03. RA Buenos Aires - Uniclub
10.03. RCH Santiago - Blondie
11.03. RCH Temuco, C. de E. Puerto Madero
13.03. BOL La Paz - Inti Palace II
16.03. CO Bogotá - Auditorio Lumiere

AUSTRALIA/NEW ZEALAND »TOTENRITUAL« CRUSADE MAY 2018
05.05. AUS Sydney - Direct Underground Fest
06.05. AUS Melbourne - Direct Underground Fest

»TOTENRITUAL« FESTIVAL INVASION 2018
01. - 05.02. USA Miami/Ft. Lauderdale, FL - 70000 Tons of Metal
01.04. D Munich - Dark Easter Metal Meeting
14.06. D Ferropolis - With Full Force
13.07. S Gävle - Gefle Metal Festival
25.07. SLO Tolmin - Metaldays
02.08. D Wacken - Wacken Open Air
04.08. RO Rasnov - Rockstadt Extreme Fest
25.08. A Spital am Semmering - Kaltenbach Open Air

Weitere Tourdaten werden in Kürze angekündigt!