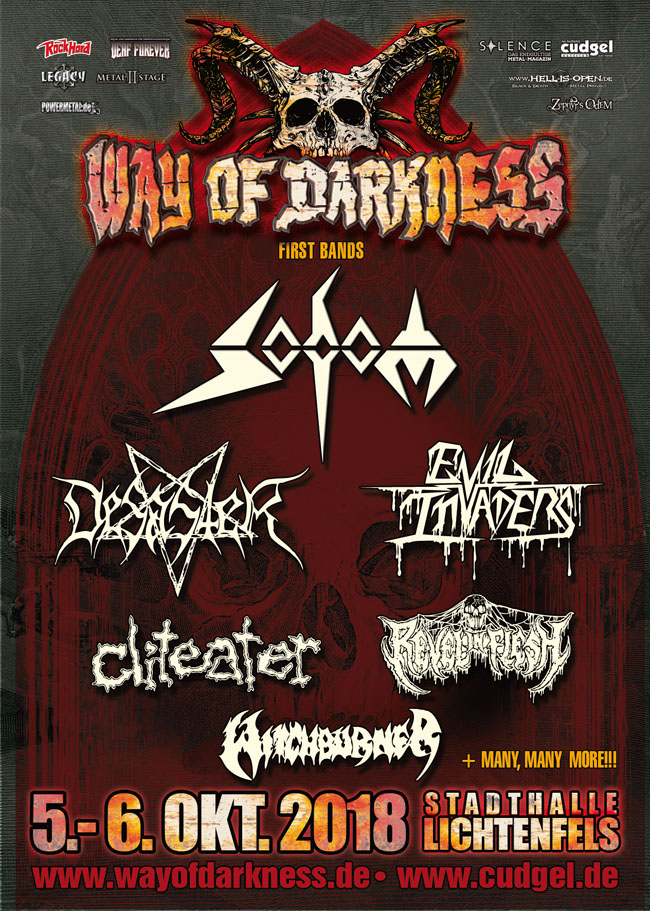 WAY OF DARKNESS ist zurück!!
Das WAY OF DARKNESS FESTIVAL ist zurück. Wer kennt es noch, dieses mit viel Herz veranstaltete Festival welches alljährlich im fränkischen Lichtenfels stattfand und nach 6 Jahren seine Pforten schloss? Nun ist dieses grandiose Festival endlich wieder zurück!
Hier wurden heftige Shows gespielt, viel Bier getrunken und gute Zeiten verbracht. Die Lichtenfelser Stadthalle hat im Rahmen dieses großartigen Festivals über die Jahre namhafte Bands wie Possessed, Sodom, Asphyx, Destruction, Morgoth, Entombed, Pungent Stench, Grave, Dying Fetus, Kataklysm, Unleashed, Napalm Death Vader, Marduk und unzählige mehr beherbergt. Es ist also an der Zeit dieses Original wieder zum Leben zu erwecken und zu einer erfolgreichen Veranstaltung zu machen. Das Jahr 2018 wird zur Wiedergeburt dieses großartigen Festivals, wieder in Lichtenfels und wieder in der bekannten Stadthalle. Es wird wieder um Death, Thrash und Black Metal gehen – die volle Breitseite. Wer es noch kennt sollte wiederkommen, wer es neu erleben will, kommt auch. Ruft es in die große Runde: das WAY OF DARKNESS ist zurück. Endlich!
Bitte liked unsere Facebookpage um über alle News auf dem Laufenden zu bleiben:
www.facebook.com/Wayofdarknessfestival
Festivaltickets, Tickets für die Schlafhalle und Campingtickets gibt es ab sofort hier: www.wayofdarkness.de