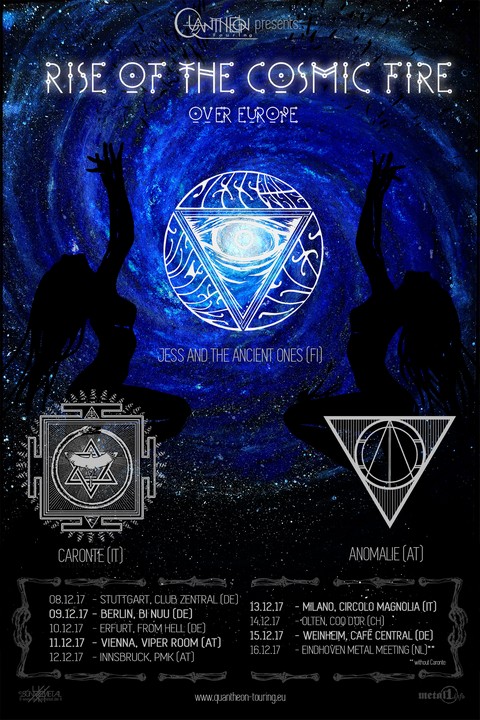 Neue Tourdates - JESS AND THE ANCIENT ONES ziehen durch die Lande
Wie bereits im Sommer angekündigt, werden JESS AND THE ANCIENT ONES mit Gefolge ab 8. Dezember durch unsere Breitengrade touren.
Die Okkultisten JESS AND THE ANCIENT ONES haben sich mit den Doomern von CARONTE und den Post-Black-Metallern von ANOMALIE zusammengetan, um im Dezember - kurz vor den Rauhnächten - den europäischen Kontinent unsicher zu machen. Bislang waren 7 Gigs bestätigt, jetzt sind aber noch ein paar dazugekommen, die wir Euch natürlich nicht vorenthalten wollen.

Das Trio wird an folgenden Orten aufspielen:

08.12.17 - STUTTGART, Club Central (DE)
09.12.17 - BERLIN, Bi Nuu (DE)
10.12.17 - ERFURT, From Hell (DE)
11.12.17 - VIENNA, Viper Room (AUT)
12.12.17 - INNSBRUCK, PMK. (AUT)
13.12.17 - MILANO, Circolo Magnolia (IT)
14.12.17 - OLTEN, Coq D'Or (CH)
15.12.17 - WEINHEIM, Café Central (DE)
16.12.17 - Eindhoven Metal Meeting (NL)**
** ohne CARONTE

Die Tour verläuft übrigens unter dem Namen "Rise Of The Cosmic Fire Over Europe" und wird von der neuen Booking-Agentur Quantheon Touring präsentiert und ins Leben gerufen, die sich in Zukunft vor allem um Bands mit ernsthaftem okkulten und esoterischen Hintergrund bemühen will.